Data Provisioning Services Overview
In conjunction with our partners, Computer Solutions provides Telecom Liaison and Data/ Phone line Application assistance, Data Line facilities (DDN, DSL, ADSL, etc), Business VPN, Metrolink WAN backbone, and Data Center access for Shanghai, and the greater China region.
Together with our partners, we have points of presence in major Asian cities, and we can assist in linking your regional sites together with low latency, and competitive costs using MPLS VPN technology,
Our MPLS Coverage includes Greater China (China, Hong Kong SAR, Taiwan), Japan and North America, making us the perfect solution provider for your requirements.

We also provide secure, reliable, speedy and cost effective Internet 
access services, including configuring and installing firewalls and other security measures.
With a wide service range, our customers can access the Internet at speeds starting from our lowest provision levels at 64kbps, through to blindingly fast 1000Mbps connections* (speeds subject to availability per location).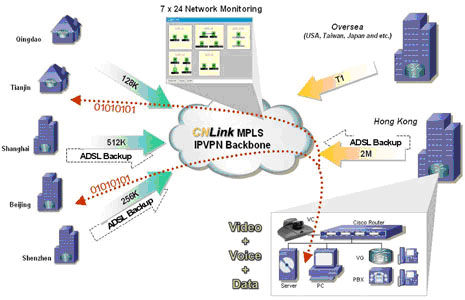 Internet Access Total Solutions include
Client Side Access Router
Fixed IP Address Allocation
Local & Global Internet Access
Local Loop Connection
24 x 7 Network Monitoring
Network Security Services
We take special care about security issues on customer side Internet access, offering optimal solutions and implementation services.
As many companies have unique or special requirements, our solutions are tailored according to your specific requirements.
Co-location and Managed Server facilities
Access to Shanghai's finest data centers for your managed or co-located Server needs.
Contact Us for further information regarding provisioning, availability, Business VPN, or other requirements.